Upcoming Tournaments
| Event | Date(s) | Stature | Location | Grade(s) | Gender |
| --- | --- | --- | --- | --- | --- |
| Future Stars Shootout | Jan 26 – Jan 26, 2019 | Open | Whitemore Lake, MI | | |
| Super Saturday Showdown | Feb 2 – Feb 2, 2019 | Open | Jackson, MI | | |
| 24-7 Hoops Showcase | Feb 2 – Feb 3, 2019 | State Qualifier | Fort Lauderdale, FL | | |
| Michigan Winter Super Regional | Feb 9 – Feb 10, 2019 | Super Regional | Mt. Pleasant, MI | | |
| SFE Jump Off | Feb 9 – Feb 10, 2019 | Open | Coral Springs, FL | | |
| SWFL Showcase | Feb 9 – Feb 10, 2019 | State Qualifier | Port Charlotte, FL | | |
| Attack the Rack Tournament | Feb 16 – Feb 17, 2019 | State Qualifier | Midland, MI | | |
| Central Florida Shootout | Feb 16 – Feb 17, 2019 | State Qualifier | Lakeland , FL | | |
| Presidents Day Shootout | Feb 16 – Feb 17, 2019 | State Qualifier | Jackson, MS | | |
| Victory Basketball President's Day Summit | Feb 16 – Feb 17, 2019 | State Qualifier | Fort Lauderdale, FL | | |
| Ball4Lyfe Classic | Feb 23 – Feb 24, 2019 | State Qualifier | West Palm Beach, FL | | |
| For the Love of the Game Classic | Feb 23 – Feb 24, 2019 | State Qualifier | Tampa, FL | | |
| Light it Up South Shootout | Feb 23 – Feb 24, 2019 | State Qualifier | Naples, FL | | |
| Mayhem in Michigan Shootout | Feb 24 – Feb 24, 2019 | Open | Greenville, MI | | |
| Wellington Wolves March Madness | Mar 2 – Mar 3, 2019 | State Qualifier | Wellington , FL | | |
| THE GAME CHANGER SHOOTOUT | Mar 3 – Mar 3, 2019 | State Qualifier | Mt. Pleasant, MI | | |
| THE GAME CHANGER SHOOTOUT | Mar 9 – Mar 9, 2019 | State Qualifier | Mt. Pleasant, MI | | |
| March Mayhem | Mar 9 – Mar 10, 2019 | State Qualifier | Indianapolis, IN | | |
| Sarasota Xplosion Shootout | Mar 9 – Mar 10, 2019 | State Qualifier | Sarasota, FL | | |
| SFE Tip Off | Mar 9 – Mar 10, 2019 | State Qualifier | Fort Lauderdale, FL | | |
| Bulldog Invitational | Mar 16 – Mar 17, 2019 | State Qualifier | Starkville, MS | | |
| MICHIGAN US AMATEUR WINTER CUP CHAMPIONSHIPS | Mar 16 – Mar 17, 2019 | State Championship | Mt. Pleasant, MI | | |
| South Florida Showdown | Mar 16 – Mar 17, 2019 | State Qualifier | Fort Lauderdale, FL | | |
| Team Impact Invitational | Mar 16 – Mar 17, 2019 | State Qualifier | Gainesville, FL | | |
| Georgia Cup I | Mar 22 – Mar 24, 2019 | Open | Suwanee, GA | | |
Recent Tournament Results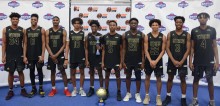 The 10th grade division of the US Amateur Basketball National Championships was deep and full of talented teams. So getting to the title game was half the battle. 
The top two teams who made it to the big stage made sure the title game was as good as you would expect it to be. 
The GPI All-Stars beat the Atlanta Playmakers 59-53 in a terrific battle. 
Deshaun Osborne scored a game high 19 points in the win. Shakur Poteet scores 17 points and hit four three-pointers, capping off a great week of work.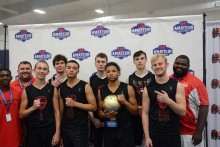 Florida Elite Southwest took home the 17 and under US Amateur Basketball National Championship with their 70-52 win over the Gainesville Stampede.  
Florida Elite Southwest was led by Jovan Stulic, who scored 19 points in the title game. Cole Jacobson added 14 points, moving himself as a valuable threat on the wing as a there-point shooter. Trevor Tracy scored 12 points while Darlin Davis and Bishop Thomas each scored nine points. 
For Gainesville Stampede, Kensha Williams led the way with 13 points while Israel Wilcox scored 11 points and Quintin Williams added nine. 
U.S. Amateur Basketball
P.O. Box 7431
Wesley Chapel, FL 33545
admin@USAmateurBasketball.com
Phone: (813) 991-6445
Fax: (813) 991-7800