Upcoming Tournaments
| Event | Date(s) | Stature | Location | Grade(s) | Gender |
| --- | --- | --- | --- | --- | --- |
| SFE Memorial Day Madness | May 26 – May 27, 2018 | Super Regional | Coral Springs, FL | | |
| 2018 US Amateur Basketball Florida State Championship | Jun 1 – Jun 3, 2018 | State Championship | Port Charlotte, FL | | |
| 2018 US Amateur Basketball Florida State Championship | Jun 1 – Jun 3, 2018 | State Championship | Coral Springs, FL | | |
| Georgia Cup Finals | Jun 1 – Jun 3, 2018 | State Championship | Suwanee, GA | | |
| Gulf States Cup Finals | Jun 1 – Jun 3, 2018 | State Championship | Birmingham, AL | | |
| King of My City | Jun 2 – Jun 3, 2018 | State Qualifier | Tampa, FL | | |
| The Exposure Classic | Jun 2 – Jun 3, 2018 | State Qualifier | Houma, LA | | |
| 2018 US Amateur Basketball Florida State Championship | Jun 8 – Jun 10, 2018 | State Championship | Coral Springs, FL | | |
| Great American Shootout IV | Jun 8 – Jun 10, 2018 | State Qualifier | College Station, TX | | |
| IUSAB Summer Classic | Jun 9 – Jun 10, 2018 | State Qualifier | Greenwood, IN | | |
| Michigan US Amateur Basketball State Finals | Jun 9 – Jun 10, 2018 | State Championship | Mt. Pleasant, MI | | |
| The Gulf Coast Father's Day Showdown | Jun 15 – Jun 17, 2018 | Super Regional | Biloxi, MS | | |
| Michigan US Amateur Basketball School Based State Finals | Jun 16 – Jun 17, 2018 | State Championship | Mt. Pleasant, MI | | |
| US Amateur Girls Nationals | Jun 21 – Jun 24, 2018 | National Championship | Gatlinburg, TN | | |
| IUSAB | Jun 23 – Jun 24, 2018 | State Qualifier | Greenwood, IN | | |
| US Amateur Boys National Championships | Jun 28 – Jul 1, 2018 | National Championship | Alachua, FL | | |
| IUSAB Firework Frenzy | Jul 7 – Jul 8, 2018 | State Qualifier | Indianapolis, IN | | |
| Splash Vegas Invitational | Jul 13 – Jul 15, 2018 | State Qualifier | Starkville, MS | | |
| Best of the South | Jul 19 – Jul 22, 2018 | National Championship | Cartersville, GA | | |
| IUSAB Next Level Classic | Jul 20 – Jul 22, 2018 | State Qualifier | Greenwood, IN | | |
| Girls Ballin on the Coast | Jul 21 – Jul 22, 2018 | Open | Biloxi, MS | | |
| The Assembly Line Championship | Jul 28 – Jul 29, 2018 | Open | Pinehurst, NC | | |
| IUSAB Summer Finale | Aug 4 – Aug 5, 2018 | State Qualifier | Fairland, IN | | |
| Indiana Red Storm Back to School Showdown | Aug 18 – Aug 19, 2018 | State Qualifier | Fairland, IN | | |
| Tennessee Miracle Fall Classic | Aug 24 – Aug 26, 2018 | Open | Gatlinburg, TN | | |
Recent Tournament Results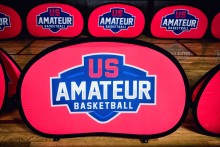 16U Elite Warriors 46, Savannah Hawks 43
The Elite Warriors used a second half surge to take down the Savannah Hawks in the 16U division championship game. Resiliency would be the word to describe the Elite Warriors squad. Trailing by eight in the first half, Avery McGarity led the charge with three second quarter 3-pointers to pull his squad back in front. 
The second half was a back-and-forth affair as the Hawks' Jacquan Kearse and Dontavian Leach kept pace with Elite Warriors' duo of Titus Brown and Micah Roebuck.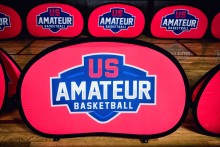 9U: EOTO 33, ATL Blue Chip 27
EOTO Elite GA beat Team ATL Blue Chip 33-27 to win the 9 and under division of the Georgia Cup III tournament on Sunday. 
Bryce Fraley scored 8 points mainly off of inside baskets. Chase Walker also added 7 points through his ability to push the offensive tempo in transition. EOTO thrived on the defensive side of the ball and produced numerous scoring droughts from the opposition.
U.S. Amateur Basketball
P.O. Box 7431
Wesley Chapel, FL 33545
admin@USAmateurBasketball.com
Phone: (813) 991-6445
Fax: (813) 991-7800