WHY
PLAYSAFE
Sports Thread Play Safe connects players, coaches, and parents to the information they need to know at US-Amateur Basketball events ensuring the highest level of fair competition.
Sports Thread's automatic age verification eliminates the need to bring a birth certificate or ID to 1,000's of Sports Thread Certified around the nation.
Scroll down to see how a Play Safe Event connects coaches, parents, and fans.

TEAMS REGISTER FOR THEIR

US-AMATEUR TEAM ID
All coaches must register teams for their US-Amateur team ID through the Sports Thread portal located on the Team Registration page found in the TEAMS tab above. This team ID will be used to register your team for all US-Amateur Basketball events.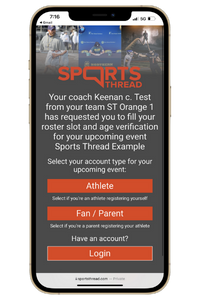 PARENTS AND PARENTS JOIN WITH A

TEAM LINK
After registering, all US-Amateur teams will receive a personalized team link. This link adds players and their parents directly into the line of communication for an event and verifies the athlete's age to ensure fair and safe play.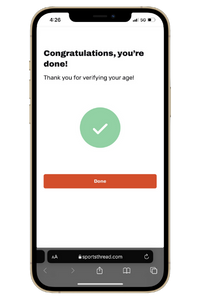 THE ATHLETE'S AGE IS
VERIFIED
The athlete is then automatically verified using proprietary technology, which runs more than a dozen checks to authenticate a birth certificate or government ID (including Driver's License, Permit, Visa Residence Card, Passport, or Passport Card).

GET YOUR

 

QR CODE
Every player participating in a Play Safe event receives a personalized QR code for players to display their age verification for an event. Go to "My Profile & Tickets" to get access to your code in the "Badges" tab.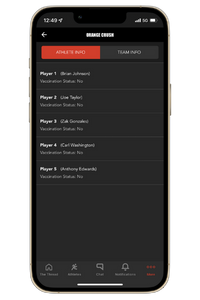 THE TEAM ROSTER IS

UPDATED
Each team's roster is updated instantly upon each athlete's successful age verification. This roster connects all athletes and their parent to their team. Giving access to all event information to all parents, athletes, and coaches.

REAL-TIME EVENT
INFORMATION
All coaches, athletes, and parents can then find their game schedules, locations, scores, and more right from the Sports Thread app, including instant notifications for important event information.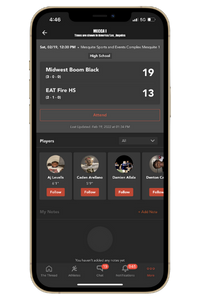 College coaches attending a tournament can track each player through each team's schedule where they can click into each age-verified player profile and view athletes, academic standing, season stats, and team info.